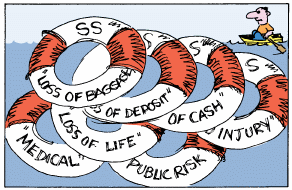 Travel Agents and Tour Operators

Making your liability waiver effective
You would all agree that skydiving is a high risk activity.
And that if your business is skydive jumps for the public, you would agree that you need the best risk warning and liability waiver money can buy to cover your legal liability for personal injury?
Skydive Australia did that. Its liability waiver was first rate.
But in a recent Supreme Court case, the judge found this was not enough. The reason was that Skydive did not do enough to make the jumper aware of the liability waiver. As a result, Skydive could not rely upon it when sued for an injury - a broken spine caused by a hard landing.
Fortunately for Skydive, and unfortunately for the jumper, the judge found that Skydive was not negligent because it had followed all the correct procedures.
It shows the importance of taking out personal accident insurance when indulging in high risk activities like skydiving.
For more, click on my article.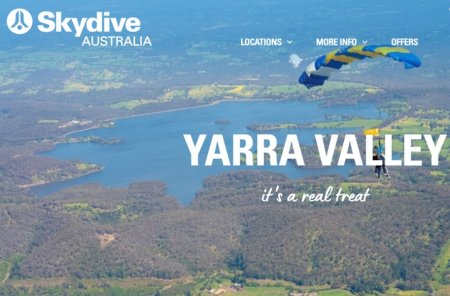 ---
If you are looking a refund for an airfare, watch out for the cancellation fee
Nobody reads a travel agent's terms and conditions ... until they cancel a flight and ask for a refund.
Travellers quickly discover that lurking in the fine print are cancellation fees. Not one but two sets of cancellation fees - the first, the airline's cancellation fees, the second the travel agent's cancellation fees. What fees do they charge?
The Airlines: Qantas and Emirates charge a $375 per fare if the passenger cancels. If the airline cancels a flight and cannot offer suitable alternative arrangements, then it does not charge a cancellation fee if the cancellation is within its control.
The Travel Agents: Flight Centre and Helloworld have exactly the same cancellation fee policy: Cancellations to International bookings (excluding Trans-Tasman bookings) will incur a fee of $300 per passenger per booking in addition to supplier fees (and credit card fees). The fee is charged regardless of whether it is the passenger or the supplier (i.e. the airline) who cancels.
The coronavirus (COVID-19) epidemic has introduced a new factor. That is, travel bans and border closures have resulted in flight cancellations outside of the control of both the passenger and the airline.
As a result of Government and consumer pressure, most airlines have dropped (waived) their cancellation fee. In the US, the Department of Transport has ordered airlines not to charge a cancellation fee for flights cancelled because of travel bans and border closures. In Australia, Qantas, Emirates and other airlines have done the same.
But what about the travel agents? Flight Centre insisted upon charging its cancellation fee of $300 until 2 May 2020, when overwhelming pressure from the public and the Australian Consumer watchdog, the ACCC, resulted in Flight Centre waiving its cancellation fee for flights cancelled because of travel bans and border closures. Flight Centre will now provide full refunds of airfares.
For more information click on my article ACCC pressures Flight Centre to waive cancellation fees on some fare refunds.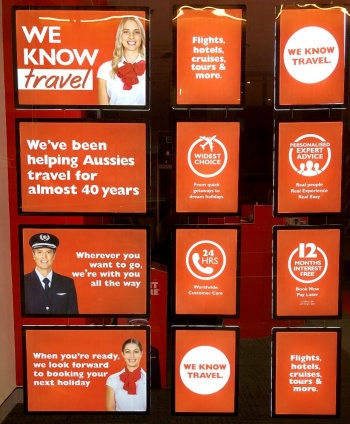 ---
Will you receive a refund if you cancel your travel plans due to coronavirus travel restrictions?
That overseas holiday you booked doesn't look so attractive now that the Government has labelled every country including New Zealand - Reconsider your need to travel, is closing borders to cruise ships and is requiring self-isolation for 14 days on return to Australia.
Can you cancel your travel plans? Of course you can. But if you do, Will you receive a refund? That is what we're about to explore.
Airlines, cruise lines, tour operators, resorts and hotels all have cancellation policies in their terms and conditions.
• Airfares are refundable, less a cancellation fee, if they are a flexi fare. But if they are a budget fare, no refund is given if the ticket is cancelled. For flights to 31 May 2020, Qantas and Virgin are waiving these strict conditions and are issuing fare credits.
• Cruise lines have policies to refund less and less of the fare the closer the cancellation is to the departure. For example, for cancellations 90 days before, the deposit is lost, 60 days before 50% of the price is lost, and 30 days or less before, the whole fare is lost. Cruise lines are waiving these conditions and are giving full refunds up to 48 hours before and are issuing cruise fare credits.
• Tour Operators have cancellation policies like cruise lines. Tour Operators are not giving refunds, but are re-scheduling tours.
What about cancellation cover in your travel insurance policy? Will it cover lost deposits and cancellation fees? It depends on the policy exclusions.
There are not one, not two, but three policy exclusions each of which apply to the coronavirus (COVID-19) pandemic. They are: 1) the risk of infection is a known risk; 2) COVID-19 has been declared a pandemic by the World Health Organisation; and 3) there is a Government directive warning against overseas travel.
In short, travel insurance provides no cover at all for lost deposits and cancellation fees.
For more information click on my article Will you receive a refund if you cancel your travel plans due to the Coronavirus travel restrictions?

---
Memo to small travel businesses:
Why you need Google and Facebook for digital marketing
The ACCC Final Report on its Digital platforms Inquiry has systematically revealed the great power that Google and Facebook have when it comes to advertising and marketing, particularly for small travel businesses.
The Report explains why:
"Online advertising has helped businesses build a brand and following through social media. In particular, small businesses have benefited in advertising and reaching customers."
"Customers already using Google Search for generalised search queries would be inclined to also use Google Search for specialised search queries, such as information on travel services, including flights, tours and accommodation, because users display customer inertia. The same cannot be said of users of specialised travel services, so this source of traffic is not available to suppliers of specialised travel search services."
"For these reasons, even when specialised search services have considerable reach, such as travel and hotel booking search services, Google's general search service enjoys a competitive advantage over them."
While this power explains why small businesses might use paid advertising on Google and Facebook, there are other cost-effective ways to build a social media presence, such as:
Invest in a high quality, responsive and information-rich website

Work with a qualified digital marketing agency to ensure you are keeping up to date with the ever-changing requirements of website design and navigation, SEO, keywords, user experience, page load times etc.

Build your brand online by publishing regular, fresh, relevant and low/no-cost content that is both helpful and interesting for your customers such as educational videos, informational blogs, buying guides and cost calculators
For more details click on my article How Google and Facebook dominate online advertising and searches
---
Don't wear a scarf if you are hot air ballooning
The High Court of Australia has ruled that scarfs should not be worn if you are hot air ballooning.
The ruling came out of a fatal accident on 13 July 2013, when a passenger was boarding a hot air balloon at a location near Alice Springs for a flight at sunrise.
Passengers had been advised to wear beanies, scarfs and gloves, because it could be chilly at that time of day. Ms Bernoth wore a long scarf, wrapped twice around her neck, tied loosely at the front.
The fan to inflate the balloon had started, and three passengers had boarded the basket. As Ms Bernoth approached the basket, she passed by the inflation fan. The long lightweight tassels on her scarf were sucked into the inflation fan, causing her to be dragged towards the metal guard around the fan. The scarf was pulled tightly around her neck as it became entangled in the fan. She later died from the injuries sustained.
The photo shows the actual balloon as it started to inflate. Note how closely the fan is positioned to the basket.
Why was the High Court involved? The issue the High Court had to decide was whether WHS (Work Health and Safety) law applied. It decided it did, exposing the balloon operator to a fine of up to $1,500,000. This is in addition to its civil liability to compensate Ms Bernoth's estate for her death.
The moral is - don't wear a scarf on a hot air balloon because it puts the passenger at risk of injury or death and the operator at risk of a large fine.
For more details click WHS Law exposes aircraft operators to substantial penalties for safety breaches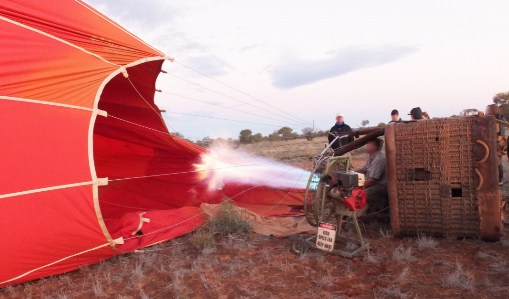 ---
How to start a tour business in Australia
Seven legal essentials

There's a world of opportunity for you to organise safaris in Africa, treks in Nepal, meditation and yoga retreats in Bali and in India; and in Australia, tours of the outback and National Parks, bicycle and motor bike tours on the east coast.
Are you thinking about setting up as a tour operator or starting a tour business in Australia?
Make sure of the seven legal essentials:
#1 Business Structure
#2 Licences
#3 Business Insurance and Travel Insurance
#4 Passports and Visas
#5 Booking Forms and Terms and Conditions
#6 Consumer Law Compliance
#7 Business Name Protection
These are the seven legal essentials, as I explain in this 10 minute video:

For an edited transcript click here


Four legal essentials for Tour Operators when organising tours, as I explain in this 2 minute video:
#1 Get your product quality right for your clients
#2 Hire a good lawyer for your ground operator and booking contracts
#3 Take care with supplier contracts
#4 Insurance – professional indemnity & travel insurance
---
Fare refunds for flight delays and cancellations are now easier in Australia
It's frustrating to be waiting at an airport and watching your flight being delayed on the Flight Directory. It's even worse if it's late at night and the flight is cancelled because it cannot take off before the curfew.
The airline will offer refreshments, meals and accommodation for overnight delays. But what if you don't want to take the flight anymore?
When it comes to giving a fare refund for flight delays and cancellations, airlines have been very reluctant:
Jetstar policy was that its 'Economy Starter' fares and 'Plus Bundle' fares were non-refundable unless the passenger purchased a flight bundle at additional cost.
Qantas policy was that refunds were not available for its 'Red e-deal' fares.
Tigerair policy was that a "refund admin fee" was payable for a refund, and the refund was only available as a fare credit valid for 6 months only.
Virgin Australia policy was that refunds were not available for its 'Domestic Getaway' and International Short-Haul fares, and the refund was only available as a fare credit valid for 12 months only.
The consumer regulator, the ACCC, has used its threat of legal action for breach of the consumer guarantee that services must be supplied within a reasonable time to have these four airlines agree to offer fare refunds to any passenger who requested one over the past 2 years and in the future.
In addition, it proposes to fine Jetstar $1.95 million because its policy to offer refunds only if a more expensive fare was purchased was far worse than the refund policies of the other airlines.
The result is by no means perfect. Often a passenger has to pay more to another airline for a fare if the flight is cancelled and they may lose their connections. These extra costs are not compensated. Nor is there any fixed compensation available as there is in Europe where up to E600 is payable for a flight delay or cancellation (as an alternative to a fare refund).
For more information click on my briefing note At last, a new regime for refunds for flight delays and cancellations in Australia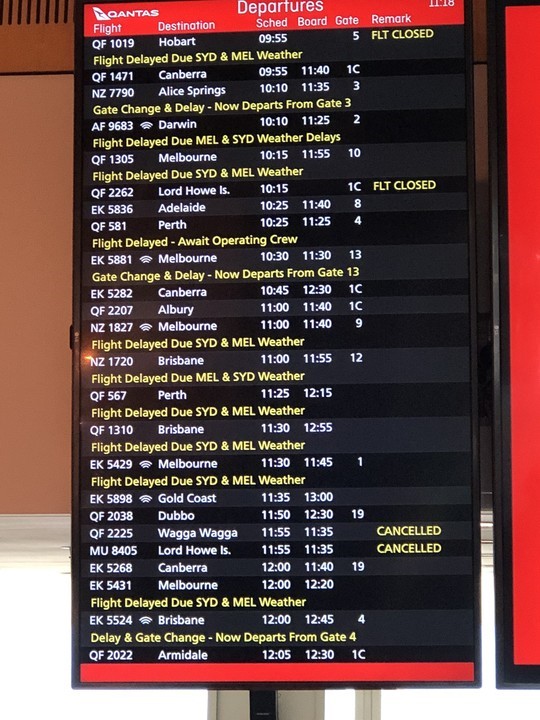 ---
If a travel agent books an international flight, are they legally liable if they fail to advise the visa requirements for the flight destination?
There are some travel professionals who still think that they can book an international flight, and leave it to the customer to look after the visa requirements. They do this even though as travel professionals, they know that without a valid visa the customer will be denied boarding on the flight they have booked.
For more details click here
---
Is lunch included in my all-inclusive tour price?
The words All-inclusive are a powerful marketing tool which is used by many tour operators, accommodation providers and cruise lines.
So what does a traveller think when they read this in a brochure which is labelled All-Inclusive : WHAT'S INCLUDED? Coach travel throughout ... Six nights dinner, bed and continental breakfast at the Hotel ...
Is lunch included?
According to a ruling by the UK Advertising Standards Authority, the traveller was entitled to expect that lunch was included because that was the overall impression given by the description.
The lesson is that to avoid giving a misleading impression, if lunch is not included then it needs to be specifically stated - Lunch is not included. If nothing is mentioned about lunch then it is misleading to not include lunch.
For more details click here
---
Has another business started using your name? What can/must you do to stop them?
Sydney Medical Services has provided after-hours doctors for home visits since 1971 in the Sydney Metropolitan region. Last year. it had 76,885 home visits. Imagine its surprise when early this year it noticed brochures advertising Sydney Medical Services 2020 for after-hours doctors.
For more details click here
---
There's no longer any Travel Agents Licensing in Australia
The sun set upon travel agents licensing in Australia on 30 June 2014.
For more details click here

---
Visas and passports can be costly!
Agents who overlook visa requirements....will find themselves footing the bill for their clients' alternative travel, accommodation and meals
For more details click here

---
Just how suitable is that tour?
How far should a travel agent go to in recommending holiday arrangements?
For more details click here
---
It pays to double check availability!
Just because the brochure says a ski resort is open on a certain date, doesn't mean that it will be...
For more details click here
---
US Visa Waiver Program (VWP)
Enables nationals of 36 countries including Australia to travel to the United States ... without obtaining a visa stamp...
For more details click here