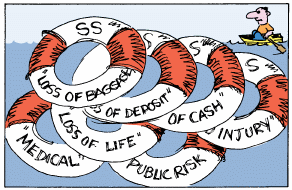 There's no longer any Travel Agents Licensing in Australia

The sun set upon travel agents licensing in Australia on 30 June 2014. The Travel Compensation Fund will process claims for bookings up to 30 June 2014 and will close down on 31 December 2015.
What was Travel Agents Licensing?
Travel Agents licensing began in Australia in 1974, in NSW, after a spate of travel agency collapses which left travellers stranded for travel arrangements they had paid for.
The Travel Agents Act, 1973 (NSW) was introduced to license travel agents. It required travel agents and tour operators to deposit all money received from their clients into a trust account, with strict rules for payments out of the trust account. No compensation fund was set up, and so the consumer protection was based on the fact that only 'fit and proper persons' could become licensed as travel agents and the threat of criminal prosecutions for breach of the Act.
In 1986 and 1987, travel agents licensing spread around Australia (except for the Northern Territory). Each State introduced its own Travel Agents Act, in similar terms. It applied to travel agents, tour operators and to suppliers who offered travel and accommodation.
Instead of requiring travel agents to have a trust account, membership of the Travel Compensation Fund (the TCF) was made compulsory as a condition of holding a Travel Agents Licence. The TCF was an Australia wide body, administered jointly by the States. From 1986 to 2013, the TCF paid 88,399 claims for a total of $62.8 million. It had $27 million in funds as at 31 December 2013.
It is fair to say that the TCF imposed 'a cost and red tape burden on travel agents' in terms of posting substantial security bonds with the TCF to join the TCF, and every year, paying a funds contribution and providing audited accounts. This represented a substantial financial cost and an administrative burden on the 99% of travel agents who looked after their clients' money honestly and carefully.
Why were Travel Agents Licensing and the Travel Compensation Fund abolished?
In introducing the Travel Agents Repeal Bill 2013, the NSW Minister (Anthony Roberts) said this about the abolition of the TCF:
"Given that payments are now frequently made directly to travel providers and/or by credit card, the Travel Compensation Fund and licensing has become increasingly redundant. The regulatory scheme has placed a costly administrative burden on the industry."
'Increasingly redundant' is an apt description. These days, money paid to a travel agent hardly has time to clear before it must be paid to suppliers – the IATA BSP being a prime example.
The Minister also said that the Government expects that 'a voluntary industry accreditation system will commence in mid-2014' and that 'commercial solutions will be developed to address business insolvency'.
These 'commercial solutions' have taken a little longer to be developed than expected. But they promise to provide more comprehensive consumer protection than the TCF provided.
What consumer protection do travel consumers have for money paid?
Through the TCF, travel consumers were effectively insured only against a travel agent's default in failing passing on money received to suppliers.
It is fair to say that the TCF's protection was limited to where the client funds had been paid into the travel agents bank account and went missing before they were paid to a supplier. The TCF did not cover money paid to unlicensed persons such as 'agents' of a licensed travel agent, and more significantly, it did not cover money paid to suppliers – airlines which collapsed, overseas tour operators who failed, hotels, resorts, and so forth.
As the NSW Minister said about consumer protection in supporting the Travel Agents Repeal Bill 2013:
"The internet and e-commerce have transformed the way consumers purchase flights, hotels, tours and other travel related products. The 1986 Travel Agents Act is based on an outdated concept of how this industry operates. The Australian Consumer Law, which commenced on 1 January 2011, has much more relevance to consumer travel purchases both now and into the future."
Travel agents are subject to the Australian Consumer Law, just like every other business in Australia. The ACCC has published The Australian Consumer Law Guide for the travel and accommodation industry to assist and inform the industry on its obligations to consumers. Click here for an overview.
'Outdated concept' is an apt description. Despite the best efforts of the TCF to expand its reach beyond its core of travel agents and tour operators, it failed to reach across the travel industry, particularly the suppliers, in any meaningful way. A good example was the collapse of Air Australia in February 2012, where no TCF coverage was available to the 225 passengers who had to pay for a fare on another airline when they were left stranded in Honolulu after their flight to Melbourne was cancelled by the liquidator.
The market based solutions to travel agent insolvency
As the NSW Minister said in conclusion in recommending the Travel Agents Repeal Bill 2013:
"The well-considered transition plan replaces largely redundant institutions and approaches in favour of market-based mechanisms capable of accommodating all parties' needs for future travel transactions."
Travel agents who 'take your savings and leave you stranded' have almost always have spent the money they received from the traveller dishonestly for their own purposes. They go into voluntary administration and / or liquidation once the traveller asks why the tickets have not issued or the arrangements they have paid for have not been confirmed. The liquidator often cannot recover enough funds to compensate the clients for their loss.
So it is the travel agent's insolvency that the market based solution must be directed to.
AFTA has introduced ATAS, a travel agents accreditation scheme, with the intent that travellers should have more confidence when dealing with an ATAS accredited travel agent than non-accredited agents. AFTA does not stand behind the ATAS accredited travel agents if become insolvent and travellers lose the money they have paid.
To overcome this lack of protection, AFTA advises travellers "if you are in a position to pay with a credit card, there's a small surcharge but it can be the cheapest form of insurance". The surcharge is an extra 1% to 2% of the travel cost / fare paid. The insurance is what is known as a credit card charge-back which is what credit card issuers provide if the travel service for which the credit card payment has been made is not provided because the supplier ceases to operate. A refund – a credit of the payment is given because the travel service cannot be supplied.
That is the reason why credit card travel insurance does not cover insolvency of suppliers – insolvency is covered by the charge-back policy. Click here for more information on what credit card travel insurance covers.
Another market-based solution is found in some travel insurance policies which cover the insolvency of travel agents, as well as the insolvency of transport suppliers and accommodation suppliers. Insolvency cover is found in comprehensive travel insurance policies, as opposed to credit card insurance policies or discount / on-line insurance policies.
Yet another market-based solution is that some groups of travel agents have taken out their own insurance policies to cover insolvency by the travel agent and by the suppliers to whom the client money is paid.
One such group is MTA Travel with its Zero Flight Risk™ product which provides protection to any client purchasing travel products and services through an MTA member. MTA will reimburse their funds in the event of any approved travel intermediary or end supplier becoming insolvent, and being unable to deliver the product or service.
The suppliers covered by the MTA policy are: Airlines, Intermediaries, Overseas wholesalers, Tour operators, Coach companies & trains, Cruise lines, Resorts, hotels & villas, Car hire companies, Destination management businesses. Zero Flight Risk™ goes much further than the previous protection afforded under the former Travel Compensation Fund which only guaranteed clients funds in the event of the failure of a TCF member.