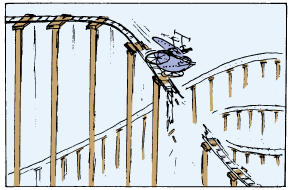 Why travel insurance does not cover airline, tour operator and supplier collapses?



Most international travellers take out travel insurance for cancellation, for delays, for theft and loss of baggage and personal items and for medical and hospital expenses on their trip. Smart traveller (the Department of Foreign Affairs and Trade website) gives this advice - If you can't afford travel insurance, you can't afford to travel.
Most international travellers expect their travel insurance to cover the airfare lost, and not to leave them stranded, if a flight is cancelled because the airline has collapsed. After all, most travel insurance policies provide cover for -
lost deposits for travel and accommodation arrangements that you have paid in advance and cannot recover in any other way if your journey is cancelled or shortened at any time through circumstances neither expected nor intended by you and outside your control.
Unfortunately, the travel insurers do not see it that way, and decline to compensate travellers for airfares lost when an airline collapses. This comes as a shock to many travellers. As one passenger stranded overseas by the Air Australia collapse put it - You get travel insurance to protect you and now we're all having to have fork out this extra money. At the end of a holiday it's really hard. (the Australian 19 February 2012).
The fact that in the case of Air Australia, Qantas made flights available for the same fare as Air Australia was certainly most welcome, but the airfare needed to be paid again. The traveller would also need to pay out of their own pocket for extra accommodation until the flight was available.

The question to be asked is: why airline collapses are not covered by travel insurance?
To answer the question, it is necessary to go to the fine print, which is found in the product disclosure statement (the PDS). Either in the cancellation cover section, or towards the end in the General Exclusions, there is a condition such as this –
We will not pay if your cancellation fees or lost deposits arise because of: The financial collapse of any transport, tour or accommodation provider associated with your journey. (WORLDCARE TRAVEL INSURANCE)
In the condition it could be called financial collapse, financial insolvency, or financial default – it does not matter. What it means is that an administrator, a liquidator or a receiver has been appointed, with the result that the provider does not need to honour its obligations to provide the transport, tour or accommodation.
The condition extends beyond airfares paid. It usually extends to payments made to hotels and resorts, to car and campervan hire companies, to cruise lines, to railways operators, theme park operators, travel agents and wholesalers
These travel insurance policies contain a condition which excludes cover for financial collapse:
NRMA (CGU Insurance underwritten), WORLDCARE TRAVEL INSURANCE (Allianz Insurance underwritten), TRAVEL INSURANCE DIRECT (Cerberus Insurance underwritten), AAMI (AAMI Insurance underwritten), ANZ PLATINUM VISA (QBE Insurance underwritten), NAB OVERSEAS TRAVEL INSURANCE (Chubb Insurance underwritten), WESTPAC TRAVEL INSURANCE (Vero Insurance underwritten), AMERCAN EXPRESS TRAVEL INSURANCE / BUDGET DIRECT (Allianz underwritten).
These travel insurance policies do cover financial collapse – up to a pre-set limit:
AUSTRALIAN TRAVEL INSURANCE / QBE TRAVEL INSURANCE (QBE Insurance underwritten), TRAVEL INSURANZ (Lloyd's of London underwritten), COMMONWEALTH BANK TRAVEL INSURANCE (Zurich Australian Insurance underwritten).
Of course, policy conditions can vary between policies from the budget to full coverage policies by the same issuer. So if coverage for financial collapse is a concern, the policy specific PDF should be read.
The Travel Compensation Fund (the TCF) should be mentioned only to say that it provides cover for the collapse of the licensed travel agent, and not for any transport, tour or accommodation provider to whom the travel agent has passed on the consumer's money. Therefore, the TCF protects the consumer's money only while it is in the bank account of the travel agent.
One final thought - Smart traveller might need to add to its travel advice about travel insurance – And don't forget to take a credit card to cover unexpected expenses when your travel insurance does not!